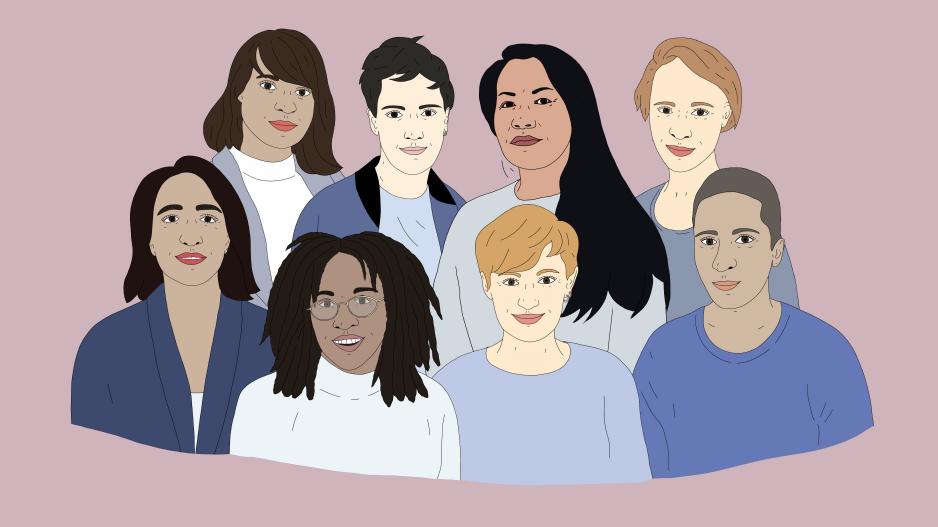 hintere Reihe (v.l.n.r.): Bahareh Sharifi, Cordula Kehr, Anh Ngô, Carolin Huth / vordere Reihe (v.l.n.r.): Eylem Sengezer, Sandrine Micossé-Aikins, Lisa Scheibner, Nima Ramezani
Berlin is more divers than the Berlin cultural sector.
To ensure that Berlin's cultural sector better reflects the city's diversity the Senate Department for Culture and Europe has created a design and consultation office for diversity development: Diversity Arts Culture was founded in April 2017. Its goal is encourage and support diversity-focused structural change within Berlin's cultural sector. Until the end of 2018 Diversity Arts Culture was housed at the Kulturprojekte Berlin, since 2019 it is part of the Foundation for Cultural Education and Cultural Consultation.
Diversity Arts Culture was created with the support of various organizations and initiatives within the cultural sector. In 2010 the Rat für die Künste called for "a cultural diversity fund to promote sustainable and innovative strategies, which develop audience and personnel". Critical interventions such as Mind the Trap! – organized by the Network of Critical Cultural Practitioners – also paved the way for establishing Diversity Arts Culture, initially only known by its working title "Service Center for Diversity Development".
What we do.
We offer consultations to cultural institutions on matters of diversity. We develop diversity training courses for art practitioners and offer support to artists and art practitioners who don't have equal access to opportunities within the cultural sector. We also offer anti-discrimination consultation for artists and cultural workers who have experienced discrimination in the cultural sector. Moreover, we provide consultations on diversity to the Administration of Arts and Culture and commission data collection on equity in Berlin's cultural sector.
On the page Our approach we explain our way of working.
The team
Dr. Sandrine Micossé-Aikins (she/her)
Director Diversity Arts Culture
manages Diversity Arts Culture and consults the cultural department of the Berlin Senate. She is a cultural studies scholar, curator and equity manager whose work focuses on racism and empowerment in the arts. Her work also examines the power and effects of colonial imagery, politics of the body, and representation and equality in the German speaking arts and cultural sector.
Julia Tonndorf (she/her)
Consultant for anti-discrimination
Julia Tonndorf is an anti-discrimination consultant at Diversity Arts Culture. From her previous work as an AGG/anti-bullying officer and as chairwoman of the works council at Dussmann das Kulturkaufhaus, she brings with her diverse and long-standing consulting experience in the field of working life. As a business mediator, she is also familiar with a wide variety of conflicts in the work context. She worked as a freelance tap dancer in the cultural sector for several years.
Bahareh Sharifi
Program Manager Diversity Arts Culture
is responsible for developing awareness raising and empowerment programming. Prior to assuming her current position she was the diversity officer for the Berliner Projektfonds Kulturelle Bildung and worked as a curator for Kulturprojekte Berlin (Interventions  2016 & 2017), Maxim Gorki Theater (Berlin Calling) and Deutsches Hygiene-Museum Dresden. Bahareh Sharifi was part of the conference team, which organized and curated  "Vernetzt Euch! Strategies and Visions for a Critical Practice on Discrimination in the Arts and Cultural Sector" housed at the Berlin University of the Arts in 2015.
Carolin Huth
Officer for Arts and Disability
is responsible for the area of disability in art and culture and the empowerment programme for disabled cultural workers. She also advises cultural institutions and the cultural administration on inclusive organisation development, accessibility and diversity development. She studied political science and cultural studies with a focus on disability studies and neurodiversity. She has advised and implemented artistic projects at the interface of disability art and diversity. As a former stage dancer, she also knows the cultural sector, especially the performing arts, from the inside.
Roisin Keßler
Referentin for Disability and Empowerment
is responsible for the empowerment program for artists and cultural practitioners with disabilities. She graduated in cultural education and worked as an inclusion and accessibility consultant at Un-Label in Cologne. Her focus was on the "Access Maker" project, a three-year project for inclusive opening processes at the theater. She is also a coordinator and board member of the nationwide INK - Inklusives Netzwerk Kultur e.V. and works as a freelance consultant in the field of inclusive performing arts.
Eylem Sengezer
Officer for Diversity Development Processes in Cultural Institutions
is responsible for institutions and designs offers and measures to diversify Berlin's cultural sector. She studied Modern German Literature, Art History and Film Studies and has worked for Haus der Kulturen der Welt, Deutsches Historisches Museum, Schwules Museum and the Centro de la Imagen, among others. From 2015 to 2018 she was a jury member of the Bezirkskulturfonds Friedrichshain-Kreuzberg. As a freelance curator, she has curated exhibitions and projects at the nGbK and Kunstraum Kreuzberg/Bethanien.
Lena Prabha Nising
Officer for the Diversity Offensive
coordinates the accompanying measures for the Diversity Offensive program and is the contact person for the participating cultural institutions at Diversity Arts Culture.
Previously, she worked for the Berlin Project Fund Urbane Praxis and has been advising cultural institutions and individual cultural actors on issues of diversity development, anti-discrimination and empowerment on a freelance basis for many years.
Cordula Kehr
Officer for Communication
is a literary scholar. She has worked for the press and PR team at Schauspiel Frankfurt and the Brandenburg Association of Music and Art Schools as well as editorially for Theater der Zeit and Unionsverlag. At Diversity Arts Culture she was responsible for the conception and implementation of the barrier-free website, among other things. She is part of the control group of FAIRSTAGE and advises cultural institutions on diversity development.
Neneh Sowe
Officer for Communication
works at Diversity Arts Culture as a communications officer for digital media and studies musicology. At the theater Ballhaus Naunynstraße, she worked in the press and PR team. As a freelance journalist, she writes on music-related topics for Missy Magazine and the radio station SWR2, among others. 
Lisa Scheibner (she/her)
Officer for Awareness/Antidiscrimination Trainings
is an actress and scholar of cultural studies. At Diversity Arts Culture she coordinates the workshop program for the area of awareness/anti-discrimination, is part of the control group of FAIRSTAGE and advises cultural institutions on diversity development. Lisa Scheibner was part of the organizing and curating team of the conference "Vernetzt euch! Strategies and Visions for an Art and Culture Scene Critical of Discrimination" (2015). In 2016/17 she served as production manager of the conference "Interventions". She has worked as a freelance actress in various ensembles.
Nima Ramezani
Administration Diversity Arts Culture
is a music producer and cultural manager. He works as a consultant for diversity-sensitive funding of music and is responsible for the administrative tasks for Diversity Arts Culture. As a project manager and fundraiser, he developed projects with marginalised cultural workers and cultural institutions such as the festival "OrienTunes", the inclusive street festival "Uhlandstraßenfest" and "Crossing Borders - Musik überwindet Grenzen" with the Babylon Orchestra. He is also involved in cooperation projects for arts education at primary schools in Berlin.